PL Gems' story began in Pailin, Cambodia about 40 years ago where Pengsiv and Pang used their newlywed's savings to buy ruby and sapphire mines. Their work ethics, good-hearted nature, and trustworthiness brought them priceless knowledge about gemstones as well as respect and admiration in Pailin's community.
In 1975, the communist Khmer Rouge took control of Cambodia, demanded the couple to abandon their business, and forced them to perform menial labor with little food for four grueling years. When the Khmer Rouge regime ended,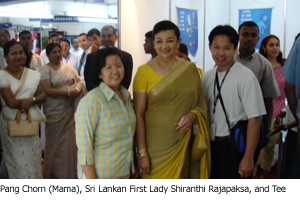 the couple had lost their fathers, several relatives, and all of their wealth. They had enough of Cambodia's politics and decided to escape the country with their children. After two years in poverty-stricken refugee camps, the family arrived in America in 1983, broke and unable to speak English.
In 1985, Pengsiv and Pang borrowed money from relatives and friends and resurrected their gemstones business in downtown Los Angeles. They traveled the world (Africa, Brazil, Thailand, India, Belgium, Sri Lanka, and more) to buy rough and polished gems. At night, while the children were sleeping, Pengsiv would cut rough gems outside his small home to avoid waking his kids. He would pour warm water over his fingers because it was so cold outside.
In time, by offering excellent selection, service, and value, the couple has transformed their humble business to what it is today: The largest selection of gems in California. A vast majority of their business comes from repeat customers-- jewelry professionals from all over the country.
We tell you our story above because we want you to know that we understand how hard it is to make money and that trust is achieved not with words but with actions and consistency. We hope that with every purchase, you will find us to be trustworthy, our service be commended, and our gems to be of excellent value. We look forward to making you our new repeat customer.